Second Sunday After Christmas  |  John 1:1-18
Seeing God
The Lectionary Project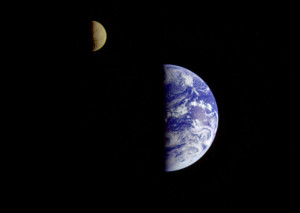 No one has ever seen God, says the evangelist John in the first chapter of his Gospel. Never mind the vision of Isaiah, or Elijah in the cave, or Moses on Mount Sinai: they were mistaken, or only had a glimpse, or perhaps it all happened in their minds. Only the Son has seen the Father, John tells us, leaving us in the quagmire of understanding the Trinity, one God in three Persons, Father, Son and Spirit.
As we have said elsewhere, we may be like God, but God is not like us.
And what does John the Baptizer have to do with all of this? All of the Gospel writers insisted on the importance of this odd man in the wilderness, pointing people to God. What is the big deal, and why should we spend time at Christmas remembering such an outlandish man?
Perhaps pointing people to God is the message of Christmas, and that is what
mattered about John the Baptist. He wasn't making a fuss about himself, certainly wasn't dressing to impress or living out the delusion that the world revolved around him. In that regard he was a spiritual Galileo or Copernicus, pointing out that the world, in fact, is centered elsewhere. We might consider living the same way—centered elsewhere. Both Johns, the Gospel writer and wilderness prophet, tell us so.
For all that we grasp the shape of our solar system, we cling to our notion of a world that spins around us.
A Christmas resolution then:
May we be centered in God, not in ourselves. May we live life better for knowing it is not only about us. May we keep Christmas by pointing to the presence of God, the holy Other all around us.
God has come into our world, and God will come into our world. Blessed are those who see.