Jeremiah 29:1-7
In 1939, the British Ministry of Information produced a series of motivational posters to raise the moral of the British citizens in the face of war. By most accounts, the posters were not widely seen or well received at the time.
In 2000, the owners of Barter Books in Northumberland (you can find them here: http://www.barterbooks.co.uk ) were sorting through a box of books they had bought at auction when they found one of the original posters. The poster simply read, "Keep Calm and Carry On". They liked it so much they framed it and displayed it in the shop.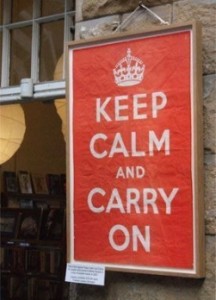 (If the image doesn't render correctly here, you can find it on the shop's website at http://www.keepcalmhome.com)
In the sixth century BC, the prophet Jeremiah sent a copy of this poster to the Judeans who were taken away in exile to Babylon. No, really. It says so, right there in Jeremiah 29, verses 1 – 7.
Ok, the Hebrew version is a little bit longer. "Build houses and live in them; plant gardens…." Still. You can almost picture a Hebrew version of the Keep Calm poster on a wall in ancient Babylon, can't you?
The Lord is sending word to these people and saying, in effect, this is as good as it is going to get for the duration. Make the best of it. Live your lives where you are, because you certainly can't live them where you aren't, and you aren't going anywhere.
Oh, and take a peek ahead at verses 8 – 9. Those people who are telling you it is going to get better soon? Yeah, they just made that up.
Sometimes we are where we are. These are the words of wisdom from the Exile experience.
Yes, I have babbled about this subject any number of times – the meaning of the Exile experience. Nevertheless, we are inundated with the other Old Testament theme of Exodus: Moses leading the people out of a foreign land and into the promised land. The Exodus theme has been embraced so thoroughly that it infuses our modern western experience and viewpoints.
The second coming of Christ is an expression of the Exodus hope. The story of America is written in the language of the promised land. And it is even more pervasive than that. Take our nursery rhymes and children's stories. Cinderella goes to the castle. Snow White wakes up. Hansel and Gretel get away. In Finding Nemo, they do find Nemo. (People seldom read The Little Match Girl, and those who do read it often regret it, but even she ends up in heaven.) Humpty Dumpty may be the only one who is pretty much left in a heap.
Given how pervasive, how American, the Exodus story of deliverance has become, it serves a good purpose to harp on the opposite theme a bit. The Exile experience is more depressing, less American. We want to believe that everything can be fixed, that problems exist to be solved.
Jeremiah is telling us that it ain't so. Sometimes we have problems we can't fix. Moses isn't coming to show us the way out. Sometimes we are simply there for the duration, and we have to make our peace with it.
Yes, it may be un-American, but it is biblical. And it is true. And sometimes hearing the truth, even when we don't like it, is more helpful than a cheerful lie.
Don't get me wrong – an occasional cheerful lie may be a very good thing. No, you certainly do not look fat comes to mind, or no, I did not vote for that person or that rule or support that idea, why would I do a thing like that? There are times we might do well to ponder that Abraham, that father of nations, was a consummate liar. If you don't believe me, read Genesis. No, I'm not going to tell you which part, just start at the beginning, do you good. And one caveat here on the idea of making our peace with where we are – if you are being held hostage by a lunatic, do not make your peace with it. Instead make your way to the exit or to the nearest blunt object.
Nevertheless, sometimes we need to make our peace where we are. You are the only person who really knows whether that has any application in your life. If it does, you get to choose. I think that is what God is telling us. Choose to wring your hands, or plant a garden. Build resentment, or build houses. Lament the past, or build a future.
Let me offer one last un-American thing, if it is un-American. Jeremiah talks about children, and family, and future generations. Being translated, we might say that this life of faith is not about us, or not just about us, anyway. A life of faith does not happen alone. A life of faith happens in community – even a monk praying in a cell is only there because of the faithful community before him and around him, and his prayers, if they are true and good ones, are as much about the people who will follow after as about his own solitary pilgrimage.
So look to the future with hope and faith and expectation. Meanwhile, look around where you are with the same view. Build houses. Plant gardens and eat well, as well as you can. Raise children to have hope and plans, but don't forget to teach them to enjoy where they are. Seek the welfare of the community around you, and the community to come after you.
Keep calm and carry on.