Epiphany  |  Matthew 2:1-12
A few years ago, I agreed to write a reflection each week, a post to match the gospel passage for each of the Sunday readings in the Revised Common Lectionary. It was a three year project, as there are three years in the lectionary cycle. In January of 2016, Epiphany didn't fall on a Sunday, and there was no need to write about it; this year, Epiphany does, and if I am going to complete the series, there needs to be a matching post.
I didn't foresee, when I started the project, how much work it would be, or how rewarding. There's an old expression about something lasting a month of Sundays. Well, this took three years of Sundays — plus the odd ones like now.
Magi. Magicians. Sorcerors. There's something intriguing, something you don't see every day.
They aren't kings, you know. "We Three Kings" is one of my favorite carols — I love the minor keys, and darker songs vibrate sympathetically with something inside me. Still, the Greek word is μάγοι, transliterated into English as "magi", plural form of the word from which we get magic and magician. And not the kind with doves stuffed in their pockets or scarves shoved up their sleeves. This is the darker kind, or the more enlightened kind, depending on your viewpoint.
These are people who studied the stars, watched for signs. They paid attention to dreams, because truth bubbles up in them. They sought knowledge. (They may have tried to change lead into gold, because let's face it, who wouldn't like to know the secret of that trick?) Today, they might be called the three scientists.
Just not kings. There was a word for that, βασιλέως, basileos, like Herod. We get basilica from it — a building that would have been suitable for a king, στοά βασίλειος, stoa basileos, chamber of a king. We assume the magi were men, given the word μάγοι is a male form and is typically translated as "wise men", but Matthew doesn't say. Tradition tells us there were three of them, but again Matthew doesn't say.
They came from the East. We do get that much. As origin stories go, that one's a little vague, the East being a big place. Still, we all have things in the past we don't want to talk about.
And they followed a star. A sometimes moving, sometimes stopping, erratic, miraculous star that somehow led them to the exact house (maybe in Bethlehem although Matthew doesn't quite say, not if you read closely, does it?) wherein they could find Mary with the young Jesus. No, not the manger. Read the story. And give up trying to make Matthew's tale match Luke's — it doesn't. This is Matthew's story, and it is its own tale, with its own reasons and themes.
These magic fellows came at a different time than Luke's manger story, to a different place, when the child was nearly two. That's when they told Herod the star appeared, two years prior, and that's how old you had to be, if you were a baby in Bethlehem and didn't want to be murdered by Herod's henchmen — over two. It's not a pretty story. Even if there is nothing outside of this Gospel to corroborate the tale of Herod murdering children, there's plenty of proof that all of the Herod clan were unpleasant. Herod wasn't a magician, he was a king, and that's how tyrants roll. They are afraid of what's out there in the dark, waiting for them. Think of how afraid Herod must have been to order the murder of children.
So the magic star stopped, somehow indicating a single house (unless they checked around door to door — anyone seen a newborn king? — and nothing indicates whether they did or didn't), and the Magi found Jesus and Mary and honored them with gifts. Then the Magi, listening to their dreams, went back into the fabled East without a word to Herod.
What do we make of all of that? How does it matter?
We could go full modern-day evangelical on it and try to prove that the star was real, match it to some comet. We could get so lost insisting that the story is true that we miss the truth of it. That happens a lot these days. You don't have to go far or question much to find an angry evangelical Christian, ready to yell at the rest of us, or worse, in the name of God.
The star doesn't matter. The location of the house doesn't matter. Where in the East these Magi came from doesn't matter. The gifts they gave are not important (although the gold might go a long way toward explaining how an older Jesus seemed well enough funded right from the start that he could leave his day job and go walkabout.)
It matters that we remember to look around, to notice the signs around us. I don't mean there are traveling stars leading us, though that would be nice. Ordinary things can keep us focused, if we pay attention. A word. A dark song. Geese honking across our sky. Anything that jars us awake, makes us pay attention to being alive. We sleep through our lives, and how few of us follow either our stars or our dreams?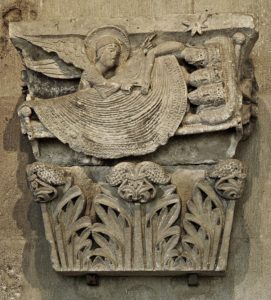 Dreams. There are several in Matthew. God speaks to Joseph four times in dreams, and he listens. God warns the Magi in their dreams, and so they traipse off into the night. In dreams, the barriers between what we allow our waking mind to think and what our unconscious mind knows can drop. We encounter our fears, our own truths. We should not dismiss the truth in the flight of birds, the beauty of the stars, the strangeness of the quiet voice in the backs of our minds and the depths of our dreams.
When we find something worthwhile, we should honor it. The Magi gave rare gifts of gold, frankincense, myrrh. We might give our time — it seems the thing we have the least of anymore. And let the finding be enough. The Magi didn't try to move into Mary's house. They didn't overstay their welcome. And all they took away was the experience, which they knew was enough, and which is how we know they were wise, of course. We don't have to own a thing, to hold onto it, for it to be part of us. A lion is more beautiful alive in Africa than dead on a trophy wall or covering someone's floor. The Magi knew that if this child was God, there was no place on earth they could go where God would not still be with them.
Epiphany. ἐπιφάνεια, epiphaneia — an appearance. A manifestation. A revelation. Literally, the word means something like "a showing forth" or "a shining upon." Today we use it to describe a moment of clarity, an ever more rare moment when we understand something that matters. Something that guides us. Something that resonates in our dreams.
Don't be afraid of the dark. That's the only place where we can see the stars.
And don't be afraid of tyrants. Leave them in the dark, since they fear it.
And look around for something pointing the way to what matters. Look for those things that are true, and good, and pure. They are still in the world, pure and holy things, as simple and full of potential as a child, if we let ourselves find them.
And don't forget to dream. The part that matters will stay with you when you wake, no matter how far you may wander.