Proper 24 (29) | Mark 10:32-45
Lectionary Project—Part of an ongoing three year project of weekly posts based on the Gospel reading from the Revised Common Lectionary.
We Don't Know What We're Asking
The sons of Zebedee—you've got to keep an eye on them. Here they are wanting to be second and third in the new kingdom, sitting at the left and right hand of Christ, whatever that means, whatever the kingdom is, and whenever it comes. The two brothers, James and John, are putting on airs, assuming themselves to be closer to Jesus than the rest of the disciples. It's not a good plan for winning friends.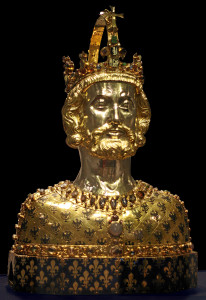 The other ten members of the inner circle are not happy.
To get the full picture, we've got to go back and pick up a few verses. The lectionary, not immune to the modern trend of reading less and talking about it more, suggests we start with verse 35. The writer of this Gospel had a different notion.
Verse 32 is a better starting point. Now we have our passage beginning with Jesus predicting his death, just as in verse 45 our passage also ends with Jesus predicting his death. These are the Markan bookends of our story, and leaving off the beginning makes the ending seem to be nothing more than a footnote. To the contrary, these predictions are central to understanding what is going on. The disciples, Jesus' closest friends, so badly misunderstand him that two of them are vying for front row seats on the bus to Calgary.
Jesus tells them quite plainly that he will be betrayed and killed. They choose to hear only the bits that match their own expectations: he is bringing the kingdom of God to pass. James and John reach for the gold, presuming on their intimacy with Jesus to demand that he give them whatever they ask, though what they ask is, unrealized to them, suicide.
Jesus tells the brothers that they do not know what they are asking—and they do not. They are thinking of sharing power and dominion. Jesus has just been telling all of them that this adventure does not go as they think, that it will, in fact, appear to end badly, and that there will be no throne they would recognize, no revolution they would comprehend, no kingdom as they understand kingdoms.
So who gets the front row seats? For whom are the honored positions to the left and right of the king reserved? It may be that we do not know, that they have not been named. Of course, it may be that we do know them after all—consider the two thieves crucified, one at Jesus' left and one at his right.
Imagine the relief mingled with John's shame as he stood that day watching Jesus die, realizing that these crosses to the left and right could have held different men.
In the novel Paper Towns, John Green writes on the theme of the limits of knowing another person, of how our knowledge of the people around us is skewed and limited by our own notions and perceptions. When we gaze at others, it is always through a glass darkly.
We also see God the same way, through a window that is too small, too dark, paned with old glass that waves and curves, changing the shape and color of what we think we see. All our explanations, our notions, our doctrinal clarity, these are nothing more than the field notes of explorers whose lenses were perhaps a little more polished or (it is sobering to consider) perhaps a little less so.
Our ideas about God are not God, though we are more likely to hold fast to our ideas. Our explanations of the kingdom of God are precious to us, so precious that we would rather repeat them, rather insist that other people agree with our explanations, than to set foot in the real kingdom of God that is all around us.
If we think otherwise, we are fooling ourselves. After all, are we better than James and John? They heard the words of Christ firsthand, and they still listened only to what they wanted to hear.
If we would be first in the kingdom that is God's, it may be because we don't know what we're asking. If we would be first, we must begin by regarding ourselves as last.